THE BOY RICHIE : Chapter 1
The Grooming
In many ways, Richie was like a lot of young men who approach me. They see my rough exterior, my beard and tattoos, and immediately become enticed by the fantasy of who I am. They think of me as a bit of rough trade, a lumberjack or a trucker, somewhat of a loner and eager to blow my load in a tight hole.
This isn't necessarily ...
Read more
This isn't necessarily the case. True, I enjoy a beautiful young man on my cock from time to time, but what I value just as much is a solid investment.
Richie was unique, however, in his desire to be possessed. He didn't state it outright, but the way he saddled up to me and looked me in the eye made it clear that he wasn't going to let me walk away without taking him with me. He saw me as the answer to a deep need of his. I was his ticket out of the search for security. As a man of few words, I didn't tell him exactly what he was walking into by walking away with me, but I could tell he wanted it.
Once we were alone, I asked him, plainly, "what is it you want?"
He replied, "I want to be yours." The answer wasn't unusual, but the way he said it was hopeful.
"And what if I want you to be someone else's?"
"Then I'll be someone else's."
It was practical and efficient, seemingly aware of what business I had for him. I didn't test him too much further, but rather brought him in to be looked at.
Inside the dark grooming room, I snapped for Richie to take off his clothes and present himself up on the platform before him. He didn't hesitate, stripping down to his underwear for me to look at him. He had a milky, smooth body that was impeccably sculpted and toned. He wasn't overly muscular. He had the right definition to appear healthy and strong without working against his boyish face. His reddish, ginger hair and blue eyes were a rare find in our circle, and assets I knew would garner a high value.
Taking him out of his underwear, I was able to closely examine his bare backside. His butt was as smooth as the rest of him, but beautifully pale and creamy. As if they'd never seen sunshine in their life. I couldn't help but dip down for a taste, running my beard and tongue across his light pink hole. He let out a soft moan, responding to my tongue with the most delightful sounds.
As I continued, I could tell he was beginning to get a little nervous. Judging by his age, he probably didn't have a lot of experience with men. Certainly not men like me.
As I lowered my pants, the sound of the heavy buckle seemed to make Richie tremble. He was lucky he didn't look back to see my cock sticking out of my underwear. The sheer size of my cock has been known to send boys running, scared that I could split them in two and they'd never recover. While I love having a massive, thick dick that makes boys gape, I know it can be intimidating at first.
For Richie, I gently lubed myself up, sliding myself between his cheeks without him having to see what was coming. He breathed deep and felt the soft tissue of his sphincter move to take me, unaware of just how far he was opening up.
I looked down, seeing my monster member begin to disappear inside him, feeling the warm, smooth lining of his guts wrap around me, milking me and massaging me closer to and closer to climax. I didn't rush it, but I could tell he was going to make an excellent piece of property for someone to own. Provided they don't mind me stretching him out first…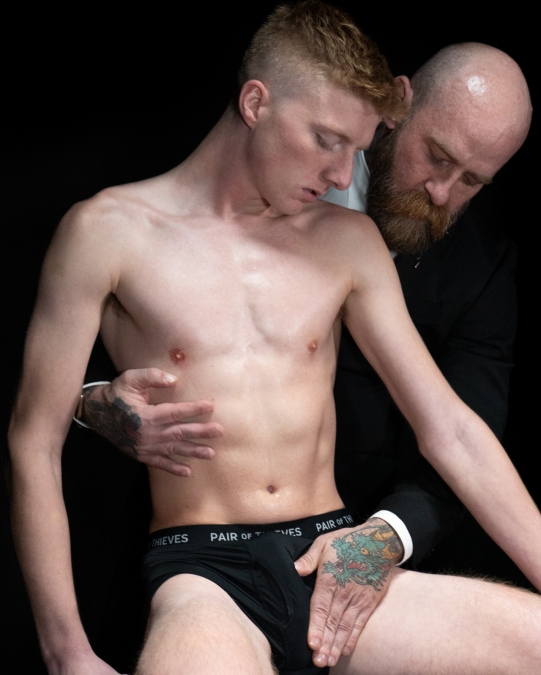 Master Dixon is known for his gruff, rough look. Covered in dense body hair and tattoos, he is known to intimidate men and boys alike. And that's even before he's unveiled his can-thick, monster meat. And while he's adept at splitting holes apart and leaving boys more stretched out than they've ever been before, he loves the return on investment in buying and selling beautiful submissives again and again. Of course, no boy leaves him as tight as when he found them…
Richie's gentle, blue eyes and reddish-gold hair clearly set him apart from the other submissives he stands beside. His dreamy look and creamy skin make him appealing to many buyers seeking a gentle, beautiful, compliant bedroom companion. Richie is new to being a slave, but is no less eager to prove his worth to whomever claims him.