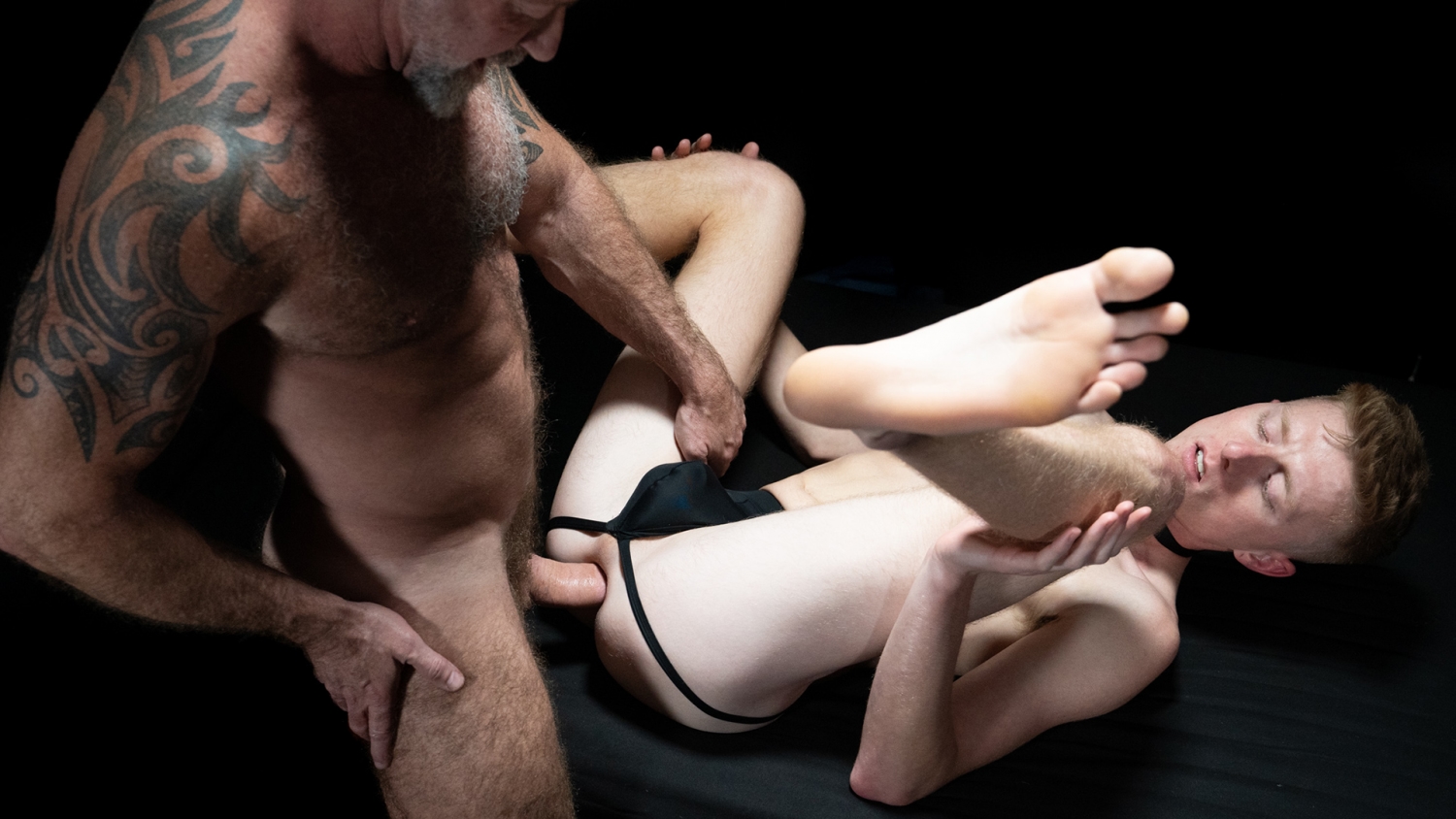 THE BOY RICHIE : Chapter 2
The Auction
Master Charger walked slowly past Richie as he made his way to the auction block. He was keen to take in the boy's beautiful appearance, studying his newly purchased prize and seeing how best to proceed. Having seen Master Legrand warm him up and ready him, he knew he could do anything he wanted. The only question that remained: what to do first?
Taking the oil ...
Read more
Taking the oil that was at hand, Master Charger lubed up the boy's hole, feeling the soft, warm flesh take to his touch, clenching at first then relaxing as it became more accustomed to the older man's hand. Master Charger watched as Richie looked back at him, trembling with excitement and fear at what the bearded man would do. That tension was everything to Master Charger, inspiring a powerful erection that was aching to be released.
Pulling off his jacket and pants, Master Charger gave Richie the first view of his body, showing off his strong, defined muscles, covered in a pattern of dark tattoos, contrasted by light, white hairs. Richie gasps, amazed that someone so powerful could be so handsome. His hole clenched again, thinking about being penetrated and inseminated by such a man, and it made him happier than ever that he'd accepted this as his fate.
Master Charger pulled out his cock, filling Richie's gaze with his thick, throbbing manhood. Richie could smell his musk permeating the dark air, filling his lungs with the scent of his new master. Instantly, he noted it. And soon, every moment between breaths, Richie came to crave it. His breathing became such that he hated to exhale, wishing he could get the man's scent back inside his nose and lungs.
Master Charger could see Richie getting red in the face, flustered from taking him in again and again. He positioned his cock closer, giving Richie the chance to taste it. Richie let out a soft moan as it passed through his lips and rested on his tongue. It was absolute perfection. Richie could hardly stand the overwhelming attraction he had. And what luck. He could have been sold to anyone. But here he was, not only a slave, but a proud one, ready and willing to be bred by his owner…
Master Charger is brought in to appraise the merchandise of the collective, inspecting the young men to give their owners honest, impartial value for resale purposes as well as to feel secure in their investments. A prized specimen in his own right, Master Charger is a stunningly handsome mature daddy with salt and pepper hair, a trimmed beard, a bodybuilder's physique, and a powerful, insatiable desire to breed. Whether on the auction block, up for assessment, or the property of the dom, boys tremble and quiver at the thought of being under foot to the powerful daddy, making him an impressive presence among the buyer society.
Master Legrand works hard and knows what he likes. He's tall, handsome, and perfectly hung. He could get any man or boy he wanted, but traditional, casual sex doesn't always satisfy him.

Fortunately, he belongs to an elite cadre of gentlemen who share similar tastes and desires--in particular, a desire for those who long to be owned. He loves the thrill of being worshipped by a truly submissive boy, not just someone playing a part.

As a member of this secret group, he's able to indulge in his deepest fantasies with the most pristine, virginal boys without compromising his innate dominant nature.
Richie's gentle, blue eyes and reddish-gold hair clearly set him apart from the other submissives he stands beside. His dreamy look and creamy skin make him appealing to many buyers seeking a gentle, beautiful, compliant bedroom companion. Richie is new to being a slave, but is no less eager to prove his worth to whomever claims him.