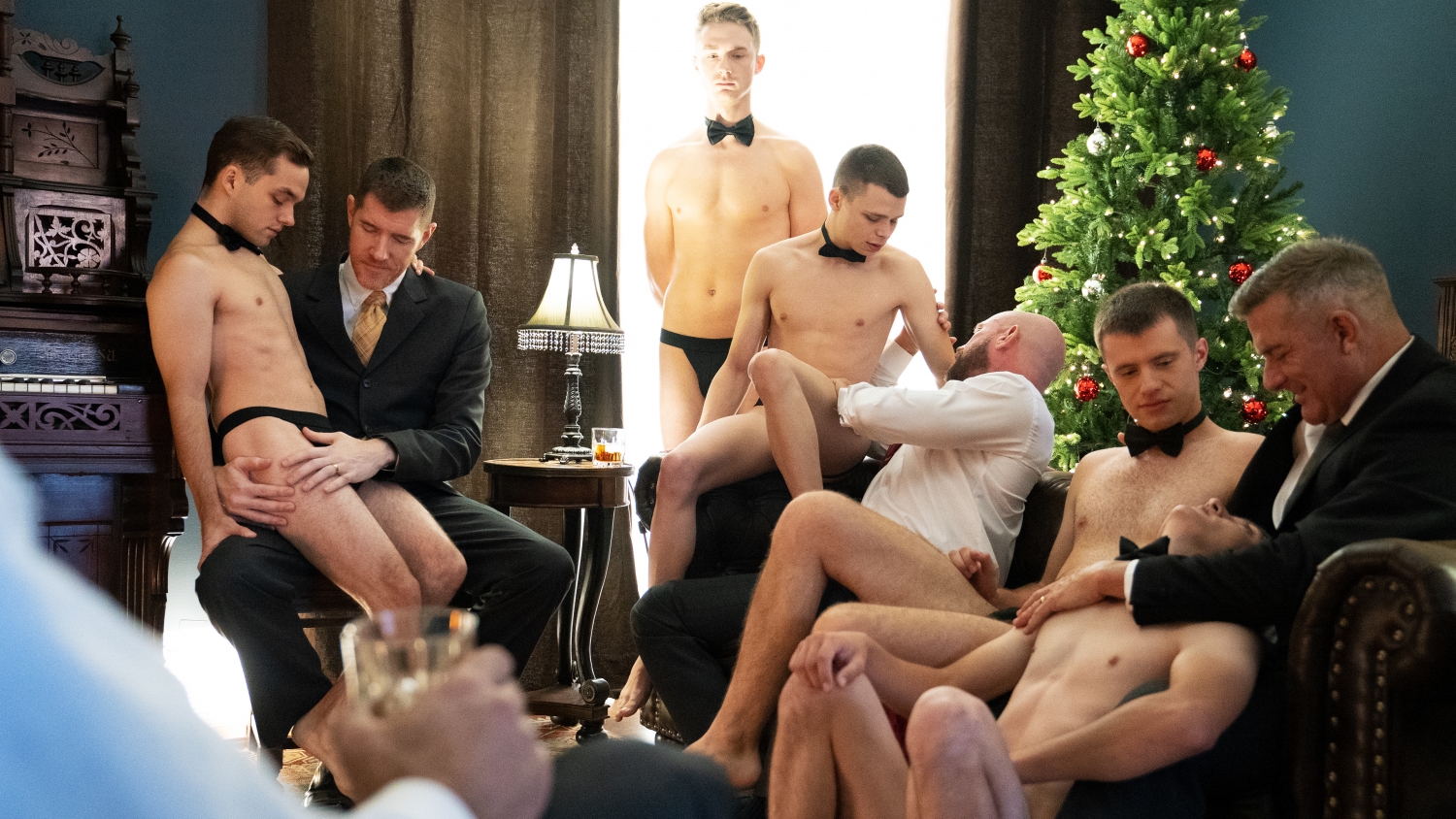 THE BUYER'S GROUP : Chapter 4
Xmas Party Favor
The Boy River was a delicious treat at a Thanksgiving auction for The Buyers Group. The holidays aren't over, though, and the gentlemen have brought a few of the boys in their possession to a party, where they'll be passed around as favors.
As drinks are ...
Read more
As drinks are served, the Boy Max is ordered to join the masters on the couch, where they run their hands all over his smooth, firm body. Then the Boy Austin sits near Master Knox. "Go ahead and kiss him," instructs Master Legrand, Austin's owner. Master Legrand then asks if the Boy River can sit on his lap. He tugs on his nipples as they kiss. "Do you like that?" Master Legrand asks with a smile. "Yes sir!" Boy River whimpers.
Soon the masters on the couch begin sucking on the boys' dicks—or guiding their heads down to the crotches bulging in suit pants.
Master Savage has boys sucking on his dick while Master Legrand is jerking off Boy River, complimenting him on his perfect pink cockhead as the boy moans and humps the older man's thigh.
The party becomes a sexual bacchanal as Master Felix watches, with masters ordering the boys to please one another for their enjoyment. Master Knox strokes two boys at once, while they gaze down at him in awe of the way he can work their dicks. But it's Master Savage who first slides his thick dick into a boy's hole when he positions Boy Jack on his lap.
The room is filled with the slurping sounds of blowjobs and the moans of boys in ecstasy. As they begin to lose themselves to the sensation, Boy Matthew is ordered to take his place behind Boy Jack, sliding his dick into Jack's hole alongside Master Savage's. Completely filled, Boy Jack's eyes roll back in his head as he feels the two throbbing dicks stroking in and out of his hole in tandem.
As they obey commands like good slaves, the boys are reaching a fever pitch of excitement when Master Savage asks permission to take Boy Austin to a private room. Getting the okay from Master Legrand, Master Savage summons Boy Cole to join them, and the three leave the room to enjoy one another alone. With two fewer boys, the party begins to wind down, and the masters gaze over their property with satisfaction, sipping from their drinks and toasting the season.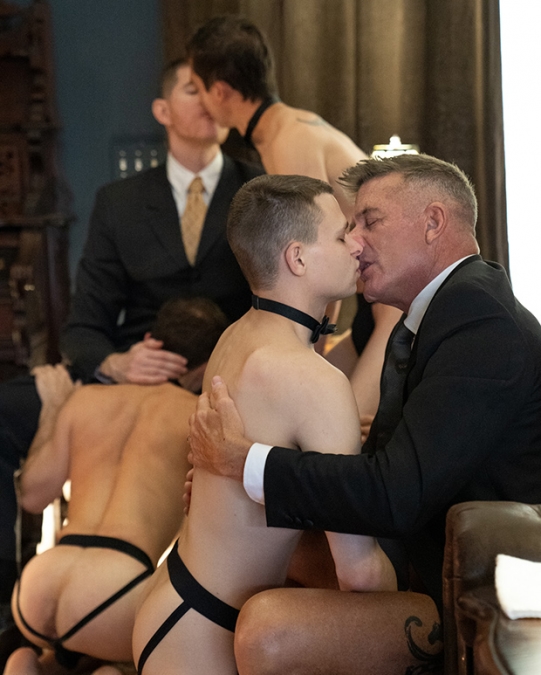 Master Felix is a man who knows market value. He's an experienced trader of various rarities, including precious stones, antiquities, and fine art. But he's honed his eye lately on the most valuable possession: young, submissive boys.

Master Felix can see what makes them unique, but also the potential return on his investment. Some come to him perfectly trained, beautiful presented, and ready for sale. Others, however, require his knowledge and discipline to bring out their true worth. He's able to see past a rough exterior and see a boy's value after he has been cut down and reshaped.

For this man, there is no greater satisfaction than bringing those finished products to market and seeing his hard work rewarded.
Master Knox knows what he likes. And with his muscular body, handsome face, and powerful sex drive, he usually gets it. As a dom, he enjoys the power that comes from having control over his submissive. And as a buyer, that's taken to the extreme. But what gets him off more than anything else is being the ultimate voyeur master.

Knox gets a special rush seeing one of his personal slaves getting fucked by another powerful man. Sitting back, stroking his cock, and dictating the actions of his inferiors makes him feel like a god, directing his subjects and watching them attempt to satisfy his desires. He can and does enjoy having his cock sucked and load taken, but serving as director of the action is his absolute dream come true.
Master Legrand works hard and knows what he likes. He's tall, handsome, and perfectly hung. He could get any man or boy he wanted, but traditional, casual sex doesn't always satisfy him.

Fortunately, he belongs to an elite cadre of gentlemen who share similar tastes and desires--in particular, a desire for those who long to be owned. He loves the thrill of being worshipped by a truly submissive boy, not just someone playing a part.

As a member of this secret group, he's able to indulge in his deepest fantasies with the most pristine, virginal boys without compromising his innate dominant nature.
Austin was, until he dropped out, a senior in high school. Recently he even started attending classes at the local junior college which is remarkable only because he looks quite a bit younger. Standing at 5'2" and weighing just 100lbs, he barely weighs in as a full grown adult. Overwhelmed by the pressures and responsibilities of young adulthood, he's fantasized about being able to give up his independence.

Without knowing much about his sexuality, his daydreams are filled with thoughts of surrendering to strong, powerful men who would take care of him and tell him what to do. In fact, the very idea has been enough to get his young heart racing, his cock hard, and his hole twitch with anticipation. After a recent spate of bad luck, the boy found himself alone and on the street where he was recruited by Master Felix, groomed to become one of his prized possessions. The boy willingly submits to his new owners, turned on by the idea of becoming someone's property and freed from the burdens of life without his beloved collar.