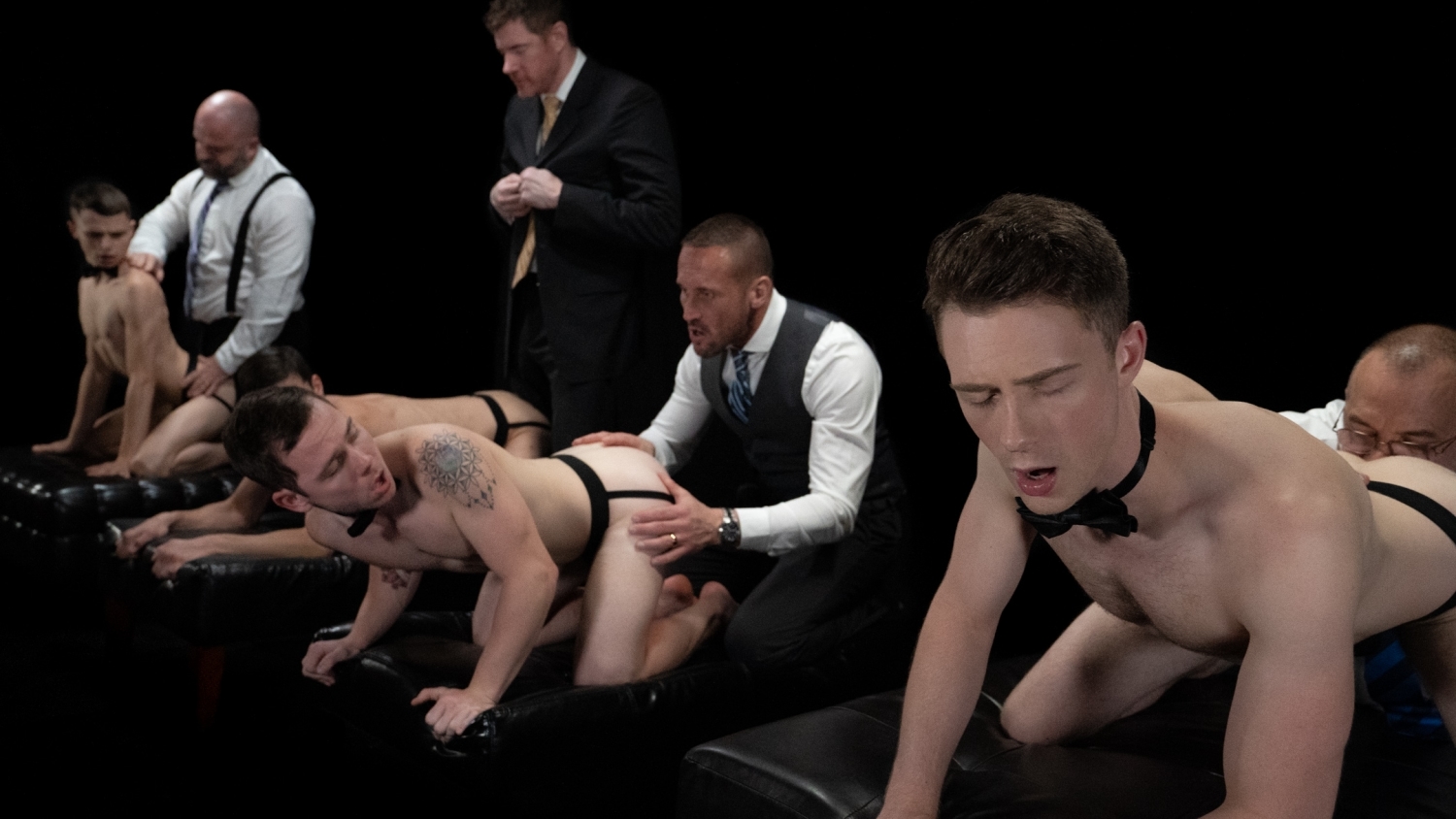 THE BUYER'S GROUP : Chapter 1
Group Auction Orgy
It's a special occasion on the sales floor! The powerful, wealthy buyers have come together for a unique, silent auction. Typically, boys are brought out individually and put up for sale to the highest bidder, each man indicating their desire by increasing their bid. This event, however, follows different rules; putting dollar value aside and determining ownership by one, impactful act: insemination!
Each of the ...
Read more
Each of the boys are brought out, one after the other, and put on display. Boys Cole and Austin are joined by new merchandise, Jay and Danny. The young men look at each other with the same understanding glances, aware that as much as they have in common, they are as much in competition with each other as the masters who are bidding on them. Cole and Austin know what it is to be a piece of property having had various owners in the past, while Jay and Danny tremble with excitement and fear as their fate is yet to be decided…
The boys are placed side by side, examined and inspected by each of the owners as they submit to their invasive and sexually charged fondles and gropes. The two experienced boys are ready, but Jay and Danny are breathless as they feel the strange hands of the powerful men caress their cocks and holes, desperate for more but unable to speak.
As the auction continues, each boy is placed on a small cushioned platform, struggling to keep themselves in place as the men take their turns filling their mouths with their swollen cocks; waiting for their colleagues to finish fucking the boy on display. One by one, each of the masters slides their bare cocks into the young slaves' holes, feeling how their many inches had worked and serviced their anal muscles. Like trying on the right suit, each man finds a different boy to be special in his own way, appealing to their different desires.
There is really only one rule these men agree to; don't cum until you're ready to seal the deal! They fuck and fill their young submissives again and again, pulling out before the point of no return to allow the others the chance to sample their enslaved bottoms. Of course, for one reason or another, each master makes the choice to continue with their pleasure, fucking harder and deeper, pushing themselves past that point so they can enjoy the right of breeding and claiming their prize!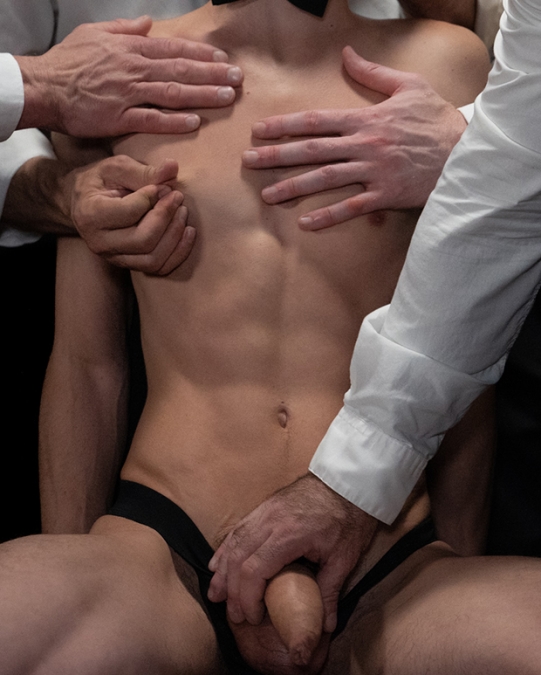 Master Angus is broad, beefy man who cannot hide his power and dominance. He has a thick neck, barrel chest, and a dense salt and pepper beard.

His white shirt and tie make him look like a gentleman, but everything about his body makes it clear that he's a beast. He projects alpha brute power, making betas quake under his gaze.

He's in the market to find a boy he can not only dominate and control, but own and use to his pleasure and to let the beast truly come out.
Master Ballad is a little gruff and a little rough. His big presence and stature make him an intimidating figure whenever he steps into the room. The respect he gets from this response is the biggest turn-on for him, especially when fucking and breeding a smaller, younger boy!

He can find that thrill online and in bars, but there's nothing quite as exciting as having a boy to own and use as he sees fit. His beer-can thick cock is more than most can handle, but when he owns a boy, he knows they'll do whatever it takes to endure the girth of his massive manhood!
Master Legrand works hard and knows what he likes. He's tall, handsome, and perfectly hung. He could get any man or boy he wanted, but traditional, casual sex doesn't always satisfy him.

Fortunately, he belongs to an elite cadre of gentlemen who share similar tastes and desires--in particular, a desire for those who long to be owned. He loves the thrill of being worshipped by a truly submissive boy, not just someone playing a part.

As a member of this secret group, he's able to indulge in his deepest fantasies with the most pristine, virginal boys without compromising his innate dominant nature.
One look from Master Myles and even the least trained of boys is put in line. It's always been this way. Something about his piercing gaze and masculine presence signals a fundamental and primal message: he's the alpha in the room.

Master Myles knows he has this power and enjoys seeing how the boys who become his property look at him with respect and desire. Most of the boys fantasize about being owned by him. As a member of this elite men's club, no one complains when he makes the winning bid and takes a boy in front of the others in the bidding hall. His lupine instincts when manhandling a boy, and his massive endowment that he screws into a whimpering boy...it is truly a sight to behold. And when it comes to taking a young virgin boy's tight little quim, even the most stubborn and untrained of boys...once they lock eyes with him, they don't just obey, they beg.