The Prize
I kept my eyes focused on Cole as he unlaced my shoes. I sat on the edge of the bed, looking for any signs of resistance or inconvenience, but he kept his eyes down. He looked intently at my dress shoes, handling them carefully as he carried out my order to have them removed. He did exactly as I said, without even a hint of struggle…
I knew this ...
Read more
I knew this wasn't a large task for a slave, but it was these small, simple orders that proved one's dominance over another. He took off my socks and belt with the same readiness. These were all things I could do myself. Things I normally do myself… But now, with Cole here, I could sit back and have even these small things done for me. How great is that?
As he stripped me down, I became incredibly and uncontrollably aroused. I had Cole run his mouth over my cock, without any warm up or petition. He just did as I said, through and through. He kissed my crotch, inhaling its musk and kissing my bulge as I became even harder. When I told him to suck it, he gently pulled it out of my underwear and slowly took it deep into his mouth.
Fuck! There's nothing like getting your dick sucked while you sit back like a king. He worshipped my manhood with unquestioned devotion and commitment, knowing that his only purpose in that moment was to serve me. The idea alone was enough to get me hard, but it was especially sweet to have such a handsome, fit, perfect young man between my legs as my possession!
As I closed my eyes and moaned with pleasure, I thought about all the fun, perverse, creative ways I could use him. All the ways I could prove my dominance and feel the rush of having someone eager to lower themselves for me. Not just eager, but bound…
I gave him subtle suggestions of how to suck me off, exactly how I liked it. He took my direction quickly and expertly, improving with each bob of his head and lick of his tongue. I could have cum right there into his mouth. I could have done it without even warning him it was going to happen! But I held back, knowing my load was not going to be wasted getting swallowed down.
I ordered him to sit on my wet cock, watching as Cole jumped up quickly to bring his hole to the tip. It was a quick, smooth motion that brought my cock inside him, pushing between this tight, smooth cheeks. He had incredible control of himself to be able to relax his sphincter so that I could penetrate him without much resistance… And once I was inside, he held onto me like a vice, keeping my cock locked in his body. How could it be any more perfect?
I pumped my meat deep into him, feeling the sensation of his flesh rubbing against mine. I felt my balls fill with seed, tightening as I ramped closer and closer toward cumming. It felt so good fucking my beautiful boy slave, I held out as long as I could… And even then, I knew it didn't matter too much. If I shot my load, I could get back in there whenever I wanted. I was in charge, I was the master!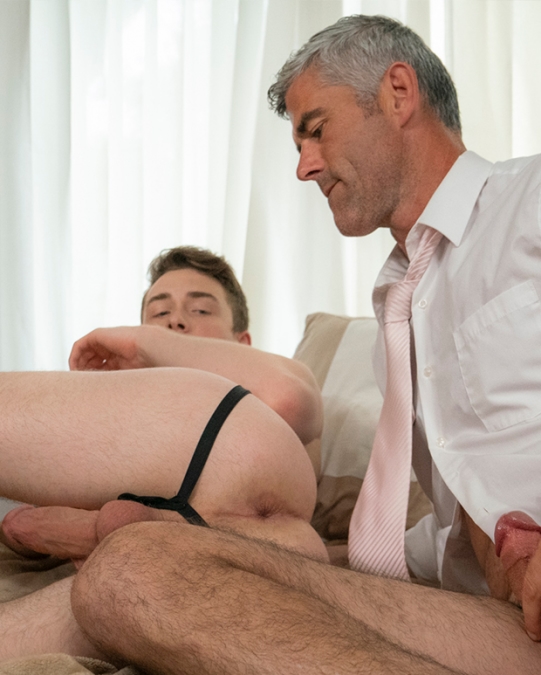 Master Oaks is your average, suburban dad. He's got the good wife, good family, good job, and the good looks to match. Everything he does and lives is about being responsible, considerate, and generous.

But when he's here, he's able to let go of his cul-de-sac lifestyle and live out his true fantasy: being the king of his castle, master of his domain, and dominant to a beautiful submissive boy.

He relishes knowing that his slave must do whatever he wants, no questions asked, and will submit to his every desire. Nothing makes him feel more alive than breeding a tight, young hole, and he's come to bid on the finest asses he can.
Cole is a handsome young jock, fresh out of high school and unsure of his future. His rosy cheeks and porcelain skin made him a true work of art, worthy of admiration and devotion. He truly is a good, all-American boy.

...But deep down, he has desires different from most of his peers. He's always fantasized about being someone's trophy and slave, submitting to their every dark and twisted desire. A mixture of naivete and bravery lead him to search for and find a place where his sexual fantasies can be reality. He didn't know the extent of what was in store for him, and his complete surrender was required up front. He would be an object...a mere toy to be used. Anxiously at first, he gave up his free will. But as things progressed his fears took a backseat to his young hormones as his dick got steely hard and leaked a seemingly never-ending copious stream of precum.