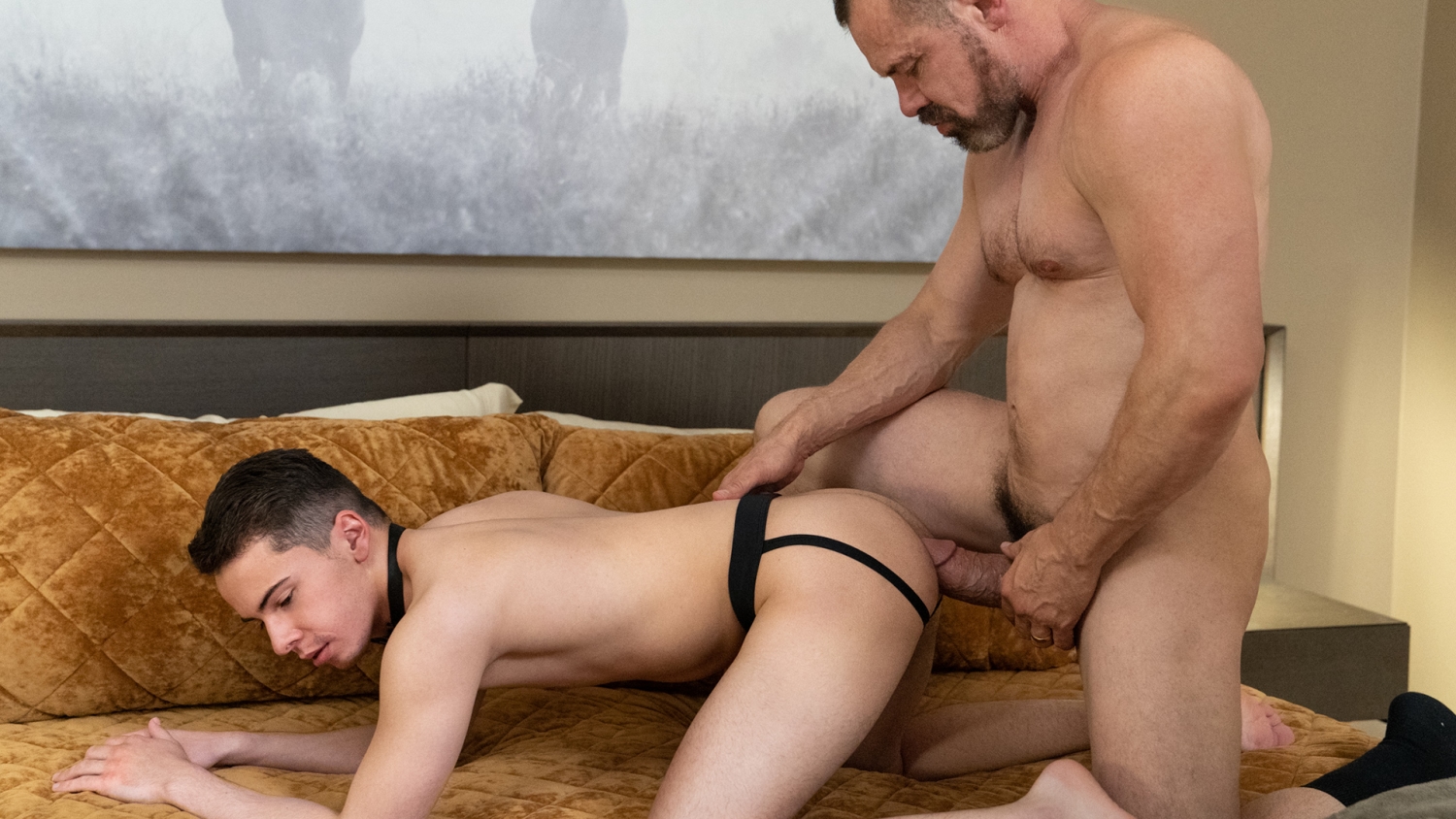 The Prize
Something about Aidan called to me. Deep in his eyes, in his soul, he was made to be owned. I knew he hadn't had an owner yet, and the idea of breaking him in was certainly a thrill in and of itself. I can be a little demanding and it's no secret that my cock is as thick as soda can. So seeing someone with Aidan's hunger yield and submit to me… well, that was an opportunity I couldn't let pass. As soon as I got him alone, I noticed a purity to his submission. There was no hesitation, no fear, not a second thought to any order or di...rection I gave him. He was not yet at a point to anticipate my needs, but I didn't mind. Hearing my orders spoken out loud and seeing him obey was part of the excitement of ownership. And Aidan was thorough in his pursuit of obedience. As he took down my pants and exposed my cock, I made sure he took in my scent. Marking him with the pheromones of my loins was important to me. It was a bit animalistic and primal, but that's part of how I like to dominate. It's not just about clothing or jewelry or the civilized understanding of property rights. It was a natural imperative. Alphas and betas. Doms and subs. Daddies and boys. He was mine on a natural level. Getting him on all fours, I couldn't help but sink my face into his hairy hole. It was clean and soft, with a silkiness that invited my tongue. As I brought my lips in, I could feel the soft, pink lips of his sphincter open up for me. As if it was a biological imperative, it was clear it needed to be bred. To feel my cock inside and to be satiated with my superior, powerful seed. His moans were short and soft, as if he was trying not to distract my pleasure with his own. I didn't mind. He could enjoy it if wanted. So as long as I got what I came for--what I paid for--he could absolutely take pleasure in my dominance. My cock was a challenge for him at first. It was actually the first sign of struggle he had. It was endearing to know that the only limitation of his submission was the physical challenge of my cock. It certainly made me feel good. Who doesn't love to feel huge when fucking a beautiful boy? And I know for a fact that I'm bigger than most. And yet, within moments, I was breaking through his sphincter, stretching him out and filling him up with my daddy dick. His breathing became deeper and his body began to tremble, but he did not back away or flinch as I moved in. He took me with beautiful determination, knowing in his bones that at that moment, he had no greater purpose than to be bred by me. I took it slow at first, not wanting to break him on our first go. I intended to get good use out of him and push further than he'd ever thought possible. But for now, I just need to consummate my ownership… to see him full of my seed... [Read more]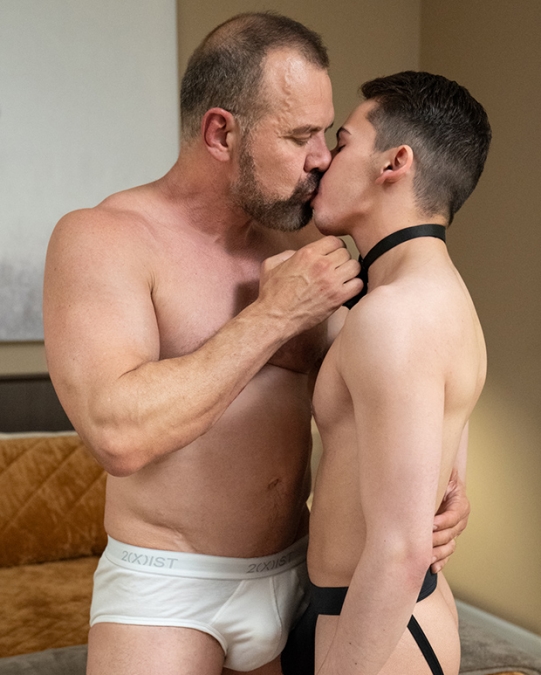 Aidan used to be bullied and made to feel like a nerd and a loser. He comes to the realization that he needs to be protected by bigger, stronger men. He becomes a slave so he'll always have someone claiming him and protecting him as their investment.
Master Ballad is a little gruff and a little rough. His big presence and stature make him an intimidating figure whenever he steps into the room. The respect he gets from this response is the biggest turn-on for him, especially when fucking and breeding a smaller, younger boy!

He can find that thrill online and in bars, but there's nothing quite as exciting as having a boy to own and use as he sees fit. His beer-can thick cock is more than most can handle, but when he owns a boy, he knows they'll do whatever it takes to endure the girth of his massive manhood!
Master Charger is brought in to appraise the merchandise of the collective, inspecting the young men to give their owners honest, impartial value for resale purposes as well as to feel secure in their investments. A prized specimen in his own right, Master Charger is a stunningly handsome mature daddy with salt and pepper hair, a trimmed beard, a bodybuilder's physique, and a powerful, insatiable desire to breed. Whether on the auction block, up for assessment, or the property of the dom, boys tremble and quiver at the thought of being under foot to the powerful daddy, making him an impressive presence among the buyer society.
Austin was, until he dropped out, a senior in high school. Recently he even started attending classes at the local junior college which is remarkable only because he looks quite a bit younger. Standing at 5'2" and weighing just 100lbs, he barely weighs in as a full grown adult. Overwhelmed by the pressures and responsibilities of young adulthood, he's fantasized about being able to give up his independence.

Without knowing much about his sexuality, his daydreams are filled with thoughts of surrendering to strong, powerful men who would take care of him and tell him what to do. In fact, the very idea has been enough to get his young heart racing, his cock hard, and his hole twitch with anticipation. After a recent spate of bad luck, the boy found himself alone and on the street where he was recruited by Master Felix, groomed to become one of his prized possessions. The boy willingly submits to his new owners, turned on by the idea of becoming someone's property and freed from the burdens of life without his beloved collar.